3 axle 45,000 Liters Aluminum fuel tank semi-trailer
This type of 45000 liters Aluminum fuel tanker semi-trailer adopted BPW axle, tank material adopted 5454 to make the tanker. This type of 45cbm aluminum gasoline tank semi-trailer export to Saudi-Aramco total with 70 units last year. At the same time our company own the authorized registration of Saudi-Aramco.
Our company have many tanker production experience, such as fuel tanker, chemical tanker, acid tanker, sulfuric acid tanker, HCL tanker, etc. We can design and produce per client's required. Aluminum tanker have the character of light weight, durability, high recoverable value and the most important is that it save oil consumption for end user. It is became the trend for liquid transportation field.
A. Aluminum tanker description
Tank material: Aluminum alloy 5083 or 5454,tank body:6mm,tank shell cover:8mm
Tank compartment: 3 compartments.Each is 15,000 liters.Or Per client's special required
B. Spare parts
Manhole: 3 units 20 inches
Bottom valve: 3 units 4 inches bottom valve,connect with bottom pipeline x2
Discharging valve: 3 units 4 inches API valve(CIVACON API valves) or per client's required
Pneumatic control valve: Pneumatic control button,and 1 set master control button
Oil vapour recycle: Oil vapour recycle valve for each compartment and adaptors
Overfill prevention: 5 wires,overflow device for each compartment
C: Other spare part
Ladder: Non-slip, at the rear of tank, one unit
Pipeline box: On both sides of the tank
Option pipeline: 4'' x 5m white and transparent hosepipe
Mudguard: Rubber or aluminum alloy
Extinguisher: 4kg dry-chemical fire extinguisher,2 units
Lighting: LED lights-24 volts to be provided at both sides and rear of the tanker
Walkway: Non-slip walkway to be provided at the top of the tanker
D: Trailer chassis
Crossbeam: 16Mn by automatic welding process
Axle: FUWA 13Ton,BPW axle brand optional
Landing leg: JOST 24Ton double action landing gear
Tires and steel ring: 385/80R22.5 tubeless with rim x 6
King Pin: JOST 50#
Suspension: BPW air suspension
Dongte Aluminum Alloy Tank Leading Points
1. 1st to design, manufacture and distribute aluminium alloy tanker in China
2. 1st to applied ADR (ECE) Safety Technology in transportable fuel tank in China
3. 1st to own >25% market share in aluminum thanker in China
4. 1st and major supplier for aluminium tanker of SINOPEC,SINO CHEM,BP,ESSO,etc.
5. 1st to produce allum alloy tanker that had travel 1 million km without defect
6. Approved by international petroleum companies,SHELL,TOTAL,ARAMCO,PDVSA
More detail pictures for 45CBM aluminum tanker semi-trailer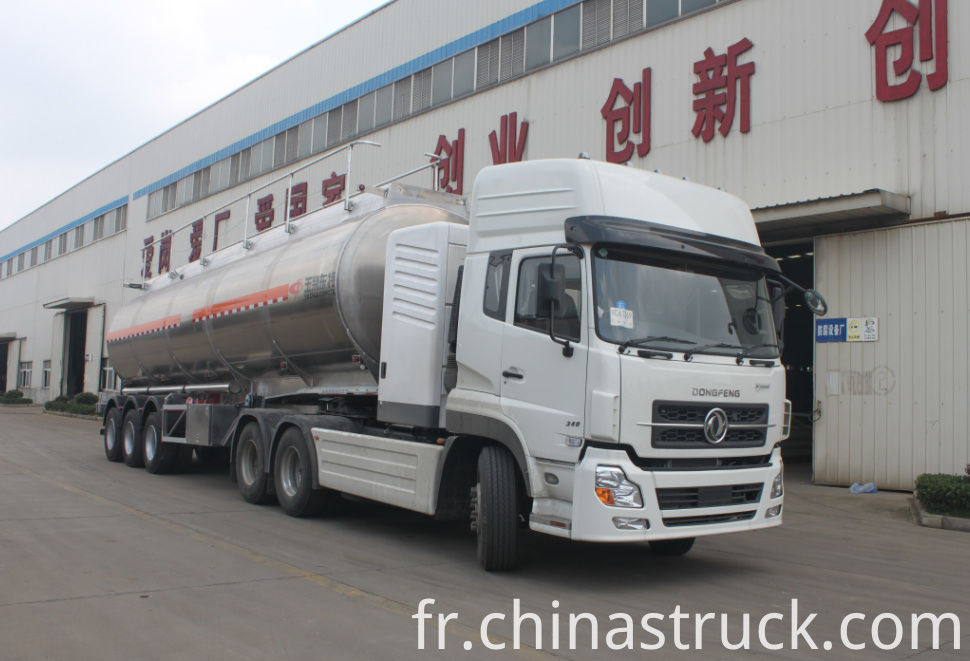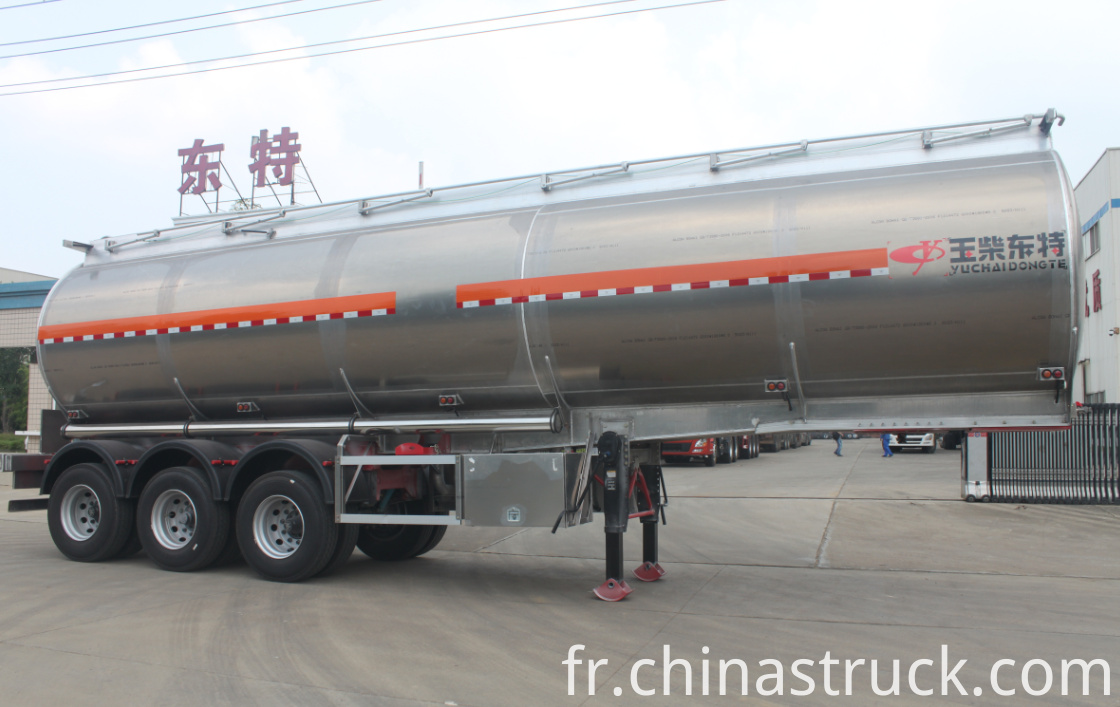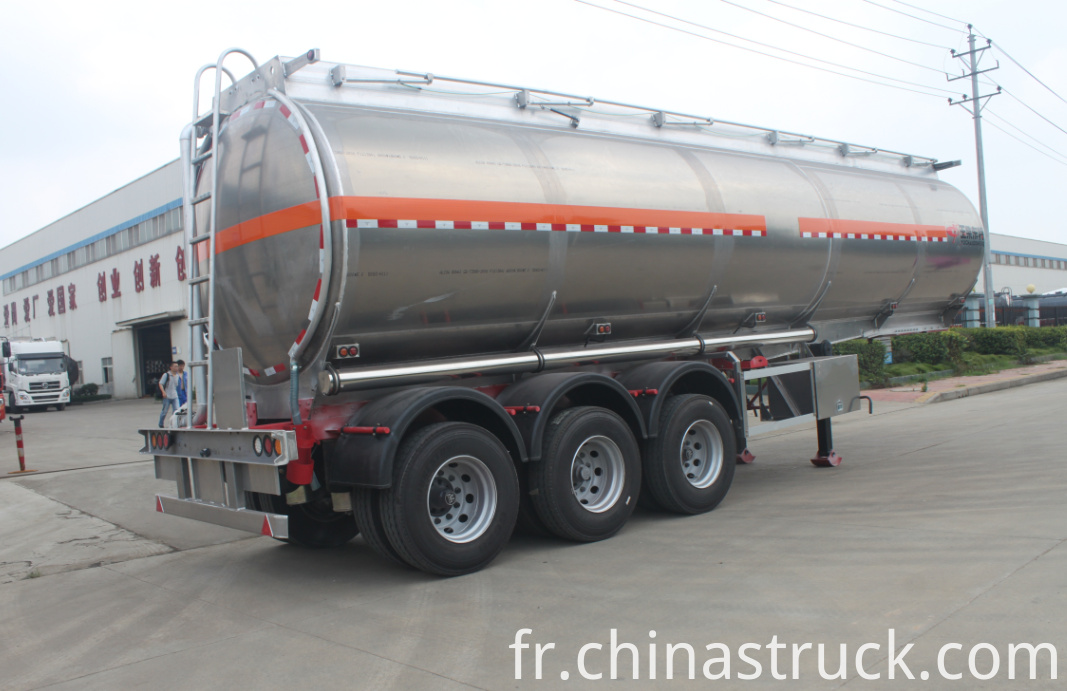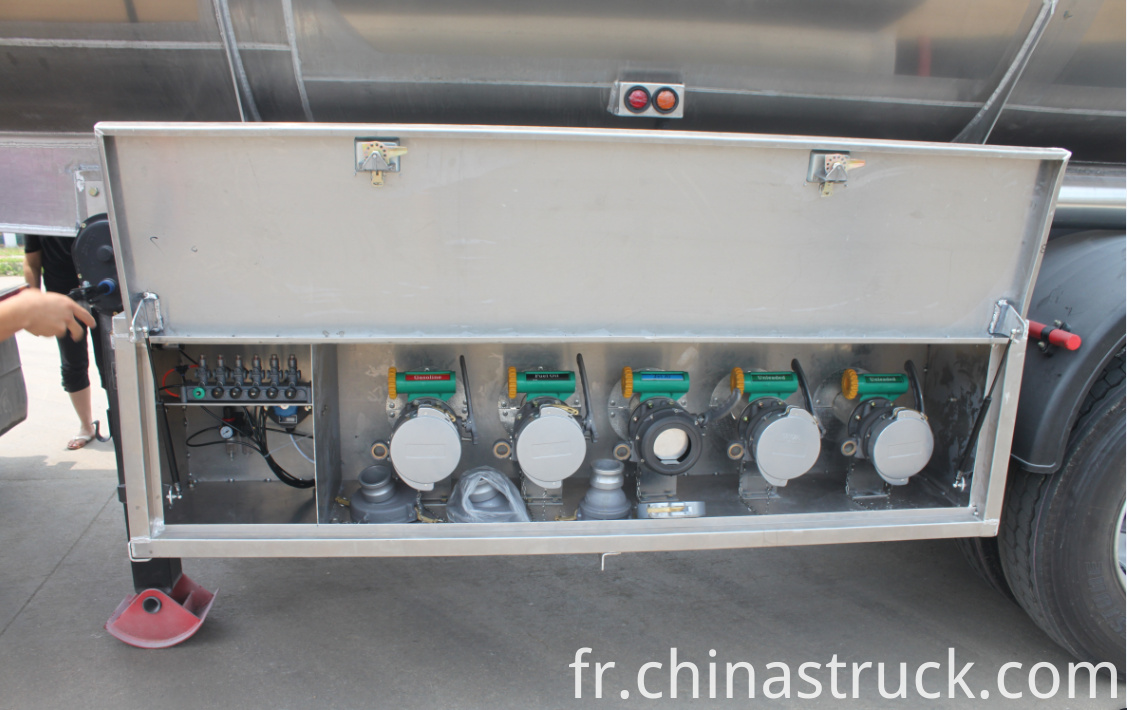 Groupes de Produits : Citerne en alliage d'aluminium